Our Mission Statement
The Perrysburg Symphony Orchestra is a community-based, professional ensemble dedicated to providing an opportunity for talented area musicians to perform a variety of high-quality concerts and educational programs that augment the cultural life of the community.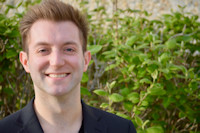 Our Director
This is the first season for Patrick Barrett acting as Music Director of the Perrysburg Symphony Orchestra. He has chosen an exciting venue to share with our audiences. All concerts begin at 7:30 p.m.
Our Rich History
The Perrysburg Symphony was founded in 1961, under the guidance of founder Juliet Beck, Thelma Smith and Robert Boyd and its first conductor, Frank Menichetti.
Under the direction of conductor Joesph Morin, the orchestra began performing throughout the Toledo area, offering music in many genres at varying levels of difficulty.
Achieving symphony status by 1970, conductor the late Samuel Szor guided the Perrysburg Symphony Orchestra for the next twenty years. During Szor's tenure, he brought a higher level of sophistication to the orchestra program. The concerts had central themes and often featured soloists and ensembles.