About The Perrysburg Symphony Orchestra
The Perrysburg Symphony was founded in 1961, under the guidance of founder Juliet Beck and its first conductor, Frank Menichetti.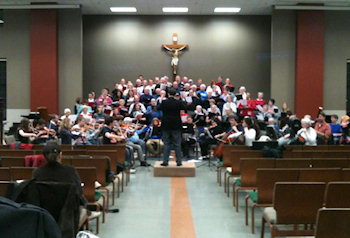 Under the direction of conductor Joesph Morin, the orchestra began performing throughout the Toledo area, offering music in many genres at varying levels of difficulty.
Achieving symphony status by 1970, by the late conductor Samuel Szor guided the Perrysburg Symphony Orchestra for the next twenty years. During Szor's tenure, he brought a higher level of sophistication to the orchestra program. The concert have central themes and often feature soloists and ensembles.
Szor's contributions were innovative and included the Community Messiah Sing-A-Long and the Valentines Dinner Concert.
Joining the Symphony in 1990, John M. DiCostanzo, proved to be a remarkable music director during his five years of leadership. he enriched the concert music, which ranged from classical to pops and monumental classics,
In additionm Mr. DiCostenza helped form the Perrysburg Symphony Chorale in 1994.